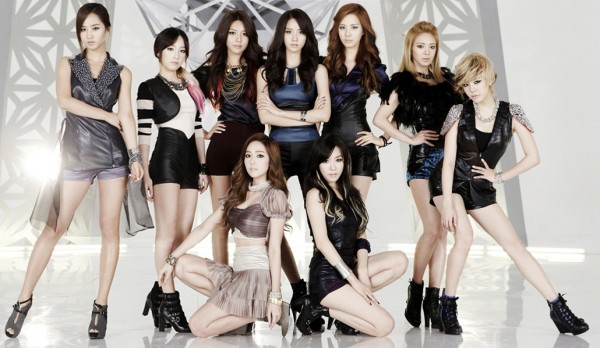 For those of you who don't know, SNSD (소녀시대) - also known as Girl's Generation - is arguably the most popular band in South Korea. The girls are known for their amazing looks and upbeat, cutesy songs. Their new song "The Boys" shows a new edgier, sexier side of the girls and made it to the #1 spot on the Billboards K-Pop charts.
In addition to the catchy lyrics and energetic tempo, the music video is also beautifully filmed. It begins with a gorgeous Yoona decked out in a white gown and tall glittery pumps. Throughout the video, the girls appear in everything from edgy, leather pieces to Renaissance-inspired gowns.
Below are some looks inspired by the SNSD's "The Boys" so you can also "bring the boys out."

Inspired By: Jessica
Cap sleeve top, £25
Sequin skirt, $49
Miu Miu leather clog, £150
Heaven Sent clutch bag, £25
Urban Outfitters white pearl necklace, $34
This rocker-chic look seen on Jessica is so easy to recreate and is perfect for going out in the winter. Pair a simple, flowy black top with a sequined mini (a wardrobe staple). Pair the outfit with some heavy pumps - thick heels and platform balances the look whereas thin stilletos would appear too delicate compared to the rest of the outfit.
Finally, accessorize with some glam and eye-catching accessories: I recommend spikes, studs, and sequins. This Urban Outfitters necklace achieves the perfect balance of feminity and edginess in an unconventional way by pairing classic pearls with metal and spikes. This glittery clutch (a much more inexpensive version of Alexander McQueen's Skull Ring Clutch) finishes the look - it's super easy to hold onto during your night out dancing and doubles as rings.
Inspired By: Yoona
Inspired By: Sunny
Carolina Herrera scoop neck tank, £191
Miss Selfridge studded leather vest, £85
The Row stretch legging, $1,990
Stuart Weitzman glitter pumps, $355
Alexander McQueen leather clutch, $1,580
Mood necklace, £13